Create landing pages for the best online conversion rates
When it comes to digital marketing, a landing page is an important type of web page used solely for increasing conversions. Known as a landing page since it is the place where visitors "land" when they click on digital advertisements from social media, search engines, and links within blog posts and articles.
Landing pages are usually designed with one purpose, known as a call to action (CTA). This differs from typical web pages that link to other content and web pages to engage the visitor.
Since landing page content is completely focused on one goal, they are the best option for improving the conversion rate and cost of acquisition of marketing campaigns.
Any web page could be used as a landing page, but the idea is to create a page with no distractions so that the one goal of the page is not lost. This becomes difficult to fit into existing websites with forced headers, footers, and navigation.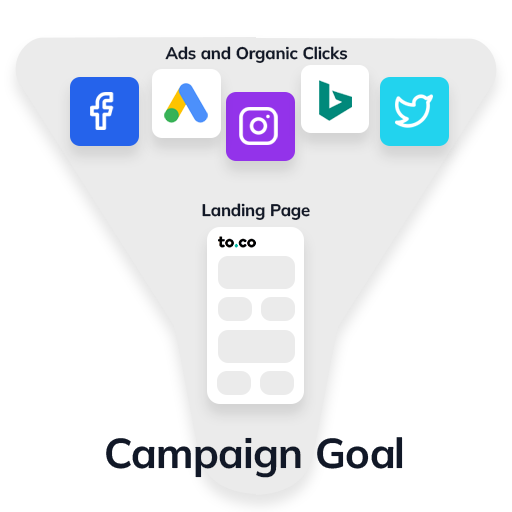 We use landing pages as the target for marketing on social media, and search engine adverts to help funnel visitors into one place. this means we can focus our efforts on conversion inside the landing page to reach our marketing goals such as sales, and acquisition.
Create Landing Pages in to.co
We've made it simple to start building your own landing pages using the to.co drag & drop Page Editor.
Page Editor
Our powerful editor lets you create customizable and easy to edit pages full of your existing company information.
Optional Branded Header
Optionally remove the header and footer sections of your to.co landing page if you feel that they distract from the purpose of the page.
Ready to get started?
To get started, sign into to.co or register FREE.
Then navigate to the Orgs page by selecting "Orgs" from the menu. You'll see a list of organizations that you manage and are watching. Click the Edit button to start editing your organization on the Org Admin dashboard.
From the Org Admin dashboard, You'll see a list of your organization's pages under the "Pages" section. If you are on the Pro tier, you'll see the option to "Add" a page, check out our pricing here.
Click the "Add" button and you'll be presented with some options for your new Page, Enter a title, and page URL then click "Create Page".
Once you have created a new landing page, it will appear in the "Pages" section, click the Edit button beside it to open the Page Editor.
From the Page Editor you can build your page's layout using our configurable panels where you can include images, videos, links to products, contact forms and so much more!
Homepage vs Landing Page
Often times, our website homepage has multiple jobs to do including:
Present easy navigation to the rest of the website and related sites
Show off your products and features
Link to your latest blog posts
Tell the visitor who you are and what you do
This is fantastic as it makes life easy for your visitors to find what they are looking for, however this is not so good for conversions.
In contrast, landing pages have fewer links to other sites and web pages meaning that fewer visitors slip through the cracks and end up elsewhere. This increases the conversion rate of the landing pages.
When visitors come to your landing page, they have already viewed your advert, so it's the landing page's job to continue the conversion from visitor to customer. The content on a landing page should continue the conversation from your advert, describing in more detail what it is you are offering and making it super-simple for the visitor to meet your goal of acquisition, or sales.
Lead Generating Pages
The focus of lead generating pages is to get the details of the visitor. This is typically done using a contact form where the user can enter their name, location, email, phone number and a message describing their requirements. These landing pages are also known as "lead capture" pages.
This type of landing page is often used by B2B companies looking to acquire prospective customer information by using an enticement. This could be a free webinar, voucher or product discount for example.
We make it easy to add contact forms to your Landing Pages in to.co using the Page Editor. Without the hassle of custom website forms, you get and easy-to-implement contact form embedded in your page, where responses and contacts are automatically generated for you. Read more about our drag & drop Page Editor.
Click Through Pages
Most frequently used by software-as-a-service (SaaS) companies and e-commerce stores to drive sales of specific products.
These pages contain links and buttons to product pages, purchase forms, and subscriptions in order to get the visitor through the checkout as quickly as possible.
Generating Traffic
In order for your landing pages to work, they will need to start with some traffic, thankfully there are lots of streams of traffic we can use to generate landing page traffic.
Search Engine Adverts
Popular search engines such as Google and Bing offer their own paid advertising tools to help get your landing page appearing in the search results. These tools usually use the pay-per-click model to prioritize paid adverts to the top of the search result.
These adverts are keyword-driven to make sure that you advert is only shown to people who you have deemed interested in your offering. This does however require that people are actively searching for your keywords, unlike social media which targets audiences based on their interests.
These adverts can be designed with your own copy in the title and description, and crucially they can be targeted to your landing page. This means that you can tailor your advert copy to match your landing page content.
Social Media Adverts
Another common way to advertise is using social media such as Facebook, Instagram and TikTok marketing tools. These tools let you target specific audiences including age, gender, location and interests, so you can really narrow down the your target audience who will see your adverts.
This differs from advertising on search engines because these adverts are shown to people regardless of the searching for your solution, instead your advert will be shown to users interested in your chosen brands and categories. These adverts will be shown within social media feeds, sidebars and in advert breaks.
Different social media sites also have their own characteristics. For example, Instagram works best for products that target consumers, whereas LinkedIn is preferred for B2B and professional products and services.
Email Campaigns
One of the most effective methods is using email campaigns. Taking advantage of existing customers that you know already have interest in your company and it's offerings.
Email campaigns can be produced for much lower costs than social media and search engine adverts, and are often much more flexible in terms of content and design, keeping consistency in between your marketing efforts and your landing page.
Organic Traffic
This refers to natural traffic that comes from non-paid search engines results. By creating web content that is intriguing and useful to visitors you may appear higher in the search engine results naturally, improving the likelihood of user clicking on your link.
Your search ranking can be improved with Search Engine Optimization (SEO). This combines quality of page content with technical knowhow in order to generate pages that search engines deem worthy of high ranking. Improving your SEO can be relatively cheap and does not have the per-click costs associated with other traffic, however it can be difficult to get right.
Ready to get started?
To get started creating landing pages in to.co, check out the Pages feature in the Page Editor, or Register FREE today.
Luke Geaves