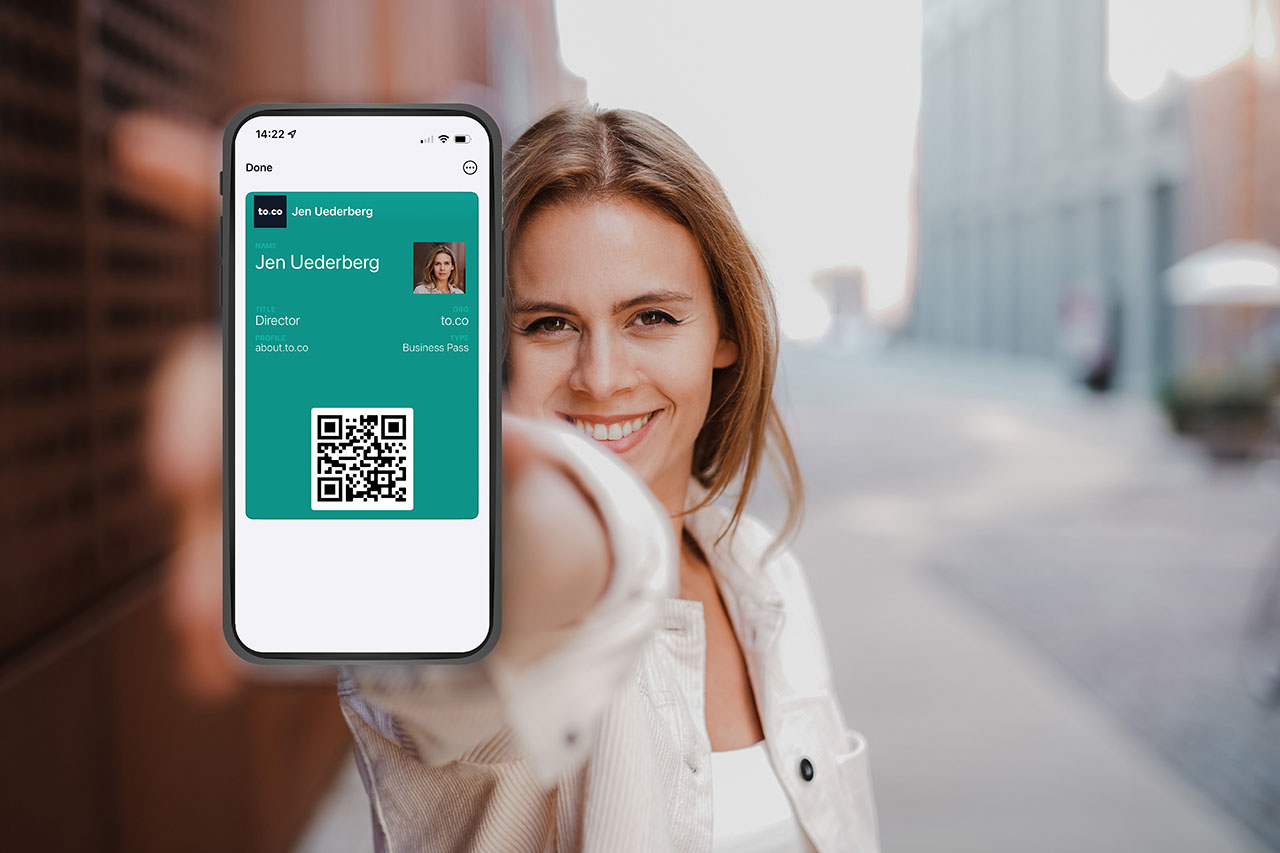 Create a digital business card in your phone wallet without an app
Business Pass is a shareable, eco-friendly, digital business card that is always available from your Apple or Google Wallet to help you share your contact details and social media profiles. Never miss an opportunity at a networking event or with a prospect you bump into.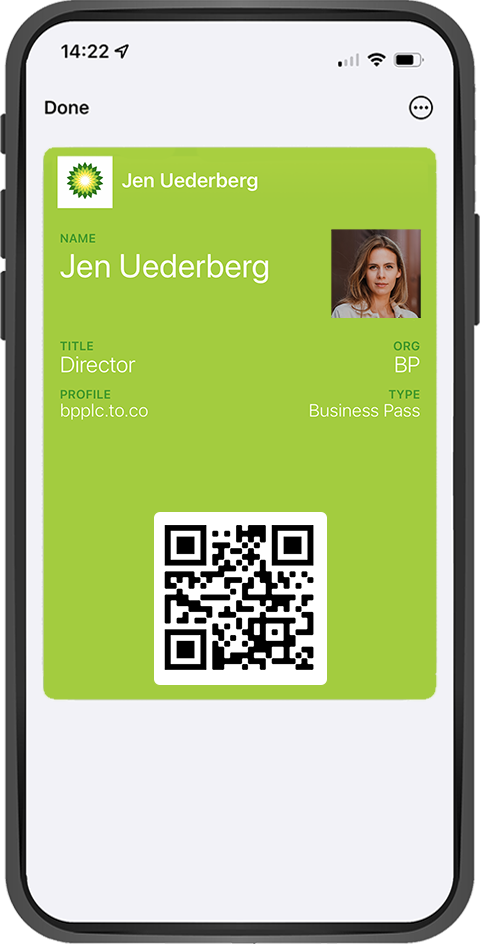 With no app to install, proudly open your Business Pass in the Wallet app on your iPhone or Android device. It's so convenient.
Share in seconds
Share your details in seconds. Your contact simply scans the QR code shown to reveal your professional business profile page. They tap Connect or download the vCard to instantly save all your latest contact details.
Stay in sync
Update your information in your to.co account and your Business Pass is refreshed and all your connections are automatically updated with the changes too!
Whenever you gain a new contact you can even automatically sync the details to over 5,000 applications using our no code integration platform.
Keep on brand
Your profile page content can also be quickly edited to best represent your organization using our drag & drop page layout designer. This page is hosted on your very own domain name ending .to.co, giving a professional impression and making it easy for you and your customers to remember and trust.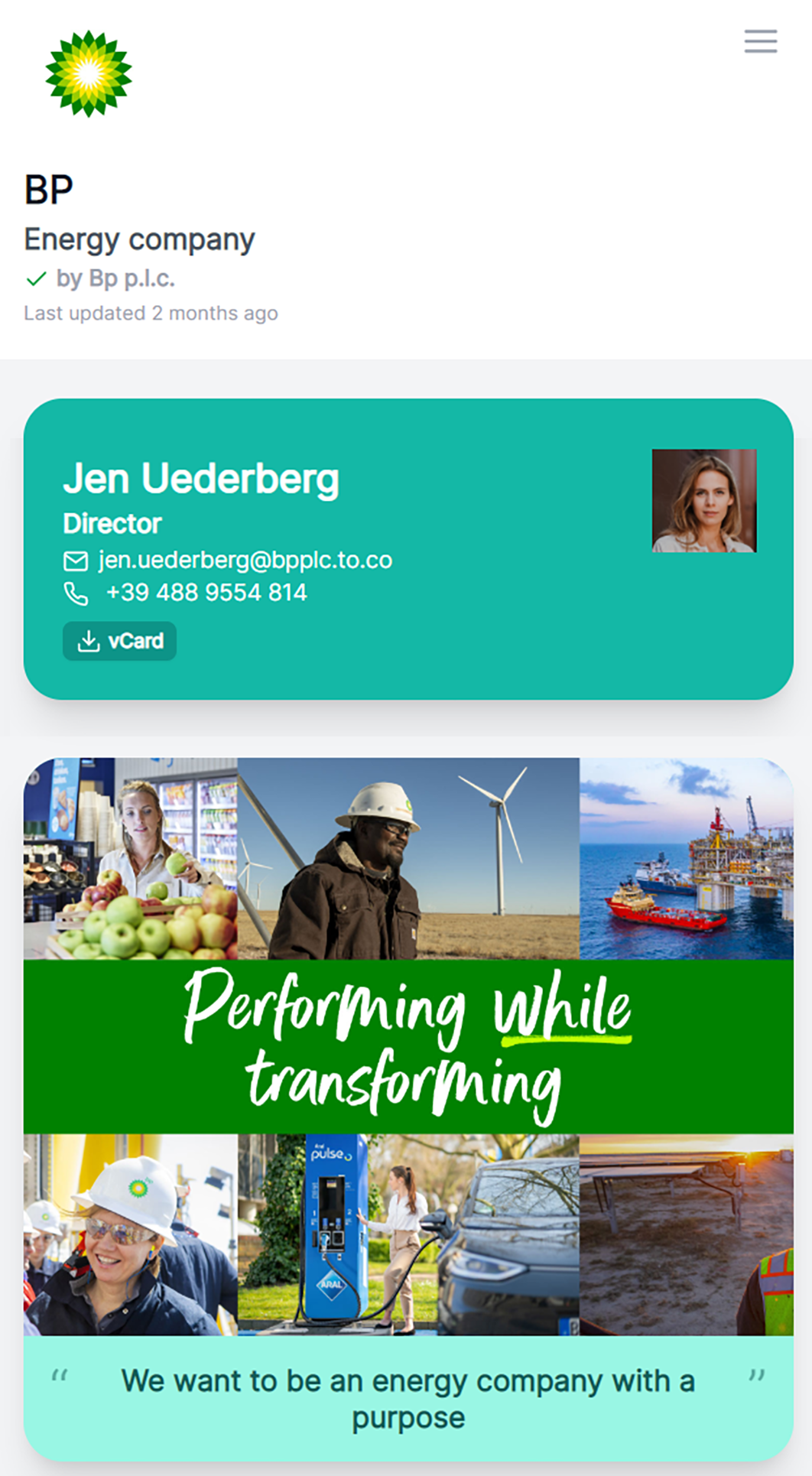 You can choose your own logo, colors, theme, and add panels showing social media links, products and services, images, videos, location map, opening hours, contact forms plus your menu, web shop, and reservation links.
Designed to leave an impression
Business Pass will get a reaction whenever you present it. It's so simple now to keep in touch and by reducing paper or plastic usage we're helping the environment too.
Get Pro features FREE by recommending Business Pass
Business Pass is free for everyone. The Pro plan adds lots of extra features including up to 5 team members and branding customization. To get the Pro plan completely free simply recommend Business Pass to 5 contacts in other organizations! Saving you $7/month or $69/year. See all plans.
Perfect for your whole team
Business Pass is an imaginative digital remake of the business card. Your team will love it's simplicity and convenience.
More than 25 staff? Our Scale and Enterprise plans start from $150/month. If you are looking to gain the benefits of Business Pass get in touch today to ask for our Concierge Service which includes a dedicated account manager who will provide all the onboarding assistance you need. Let us help you deploy the magic of Business Pass amongst all your colleagues!
Ready to get started?
Why wait to eliminate physical business cards? Save printing costs when you switch to Business Pass and never run out of cards again. See the full features of the Business Pass electronic business card. To download yours if you are an existing to.co user, check out the pass download page, or register FREE today.
Peter Chapman